New McLaren 720S Models For Sale in Dallas, TX
If you're looking for a new supercar unlike any other available, look to the new McLaren 720S. The new McLaren 720S is available in both a coupe and hardtop Spider by MSO body type, allowing you to choose whether or not you want the sleek hardtop roof at all times or you prefer the option of letting the wind blow through your hair on your trips around Dallas. The new 720S is designed specifically for those with a love of driving, and a love of art, providing you with one of the most eye-catching and unique supercar designs available with pure athleticism to match. This year, the McLaren 720S is lighter, faster and stronger, providing you with something you never thought was possible out of a supercar. We offer a great selection of new McLaren 720s and 720S Spider by MSO models at McLaren Dallas and invite you to come find the one that's right for you today.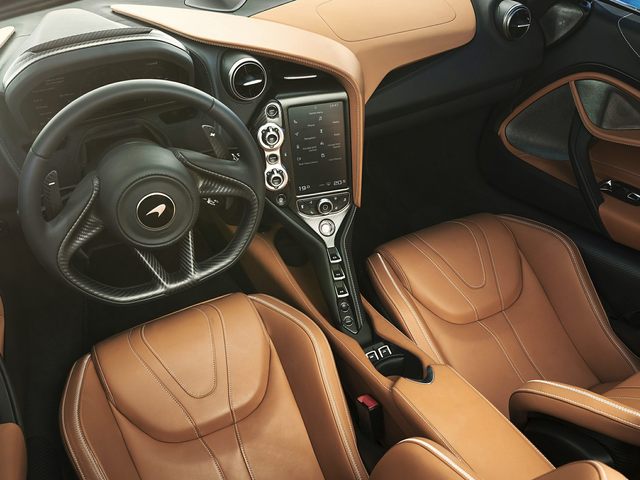 Performance
Both the McLaren 720S and 720S Spider are designed to provide you with the pinnacle of athleticism through a powerful engine and the most aerodynamic design possible. Under the hood, every 720S model comes equipped with a 4.0-liter Twin Electrically-Actuated Twin Scroll Turbocharged V8 engine that produces 710 bhp and 568 pounds-feet of torque.
0-62 mph in as little as 2.9 seconds
0-124 mph in as little as 7.8 seconds
Maximum Speed of 212-horsepower
All engines get paired to a seven-speed dual-clutch transmission that can be as smooth or responsive as you'd like. In Comfort mode, the 720S is as smooth and luxurious as you want it to be, while Sport mode allows the gearbox to cut the ignition spark during a shift to improve on gear change time, and Track mode uses Inertia Push technology to allow for built up kinetic energy to increase torque as soon as the next gear is engaged. All power is funneled through rear-wheel drive, and with carbon ceramic brakes that take up to seven months to create each disk, you can enjoy unrivaled stopping power time after time without feeling the responsiveness decrease.
Design
Every single exterior piece of the new McLaren 720S and 720S Spider is crafted to be the most aerodynamic and visually stunning as possible. The entire build of the vehicle is comprised of the carbon fiber Monocage II-S structure in order to house the massive engine and provide you with the most comfortable and smooth ride possible, while also making the vehicle immensely lighter for improved performance. All models get twin-hinged dihedral doors that sweep forwards and up to give you a sense of elegance and attract attention everywhere you go.
In the McLaren 720S Spider, the Retractable Hard Top or RHT adds barely any weight to the vehicle and can be retracted with the push of a button, fully folding into a rear compartment in under 11 seconds. The RHT is also available in a glazed option with electrochromic glass, allowing you to see through it even when the roofs up.
Technology
Every new McLaren 720S model comes with the McLaren Driver Interface ®, providing you with a central infotainment system, providing you with navigation, mobile device connectivity and important driving information right in front of you for greater ease of control.

Customize Your New McLaren 720S with the Bespoke Experience from Park Place
When it comes to your McLaren 720S, it should truly be your own. That's why we offer the Bespoke Experience, allowing you to customize every area of your vehicle, including:
Personal Leather and Stitching Options
Natural Veneers and Unique Surfaces
Embroidery
And More
Learn More About Buying or Leasing a New McLaren 720S at McLaren Dallas Today
When you're ready to explore all the options about buying or leasing a new McLaren 720S, we invite you to come join us at McLaren Dallas to talk to our financing experts today. We also offer many Qualified McLaren models, giving you a wider array of options to choose the McLaren model that fits your needs best. When it comes time to maintain your vehicle, you can return to our service center and our expert technicians will give it the attention it needs to get back to like new condition in no time.
MCLAREN DALLAS