New McLaren 570S Models For Sale & Lease
If you're looking for an exhilarating new sports car that can turn heads and excite all over Dallas, look no further than our lineup of new McLaren 570S models at McLaren Dallas . The new McLaren 570S is designed to provide you with an exciting and upscale driving experience whether you're cruising around city streets or opening up the engine on a track. With one of the most unique designs available on the market, the new McLaren 570S is sure to attract attention, and with tremendous power and athleticism at your fingertips, you're sure to enjoy every outing behind the wheel more than your last.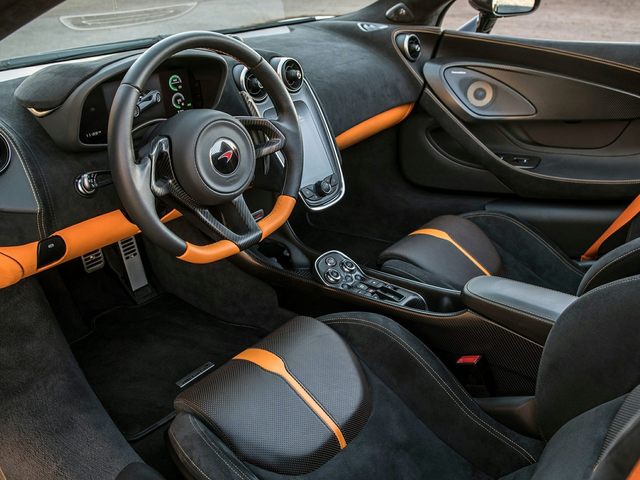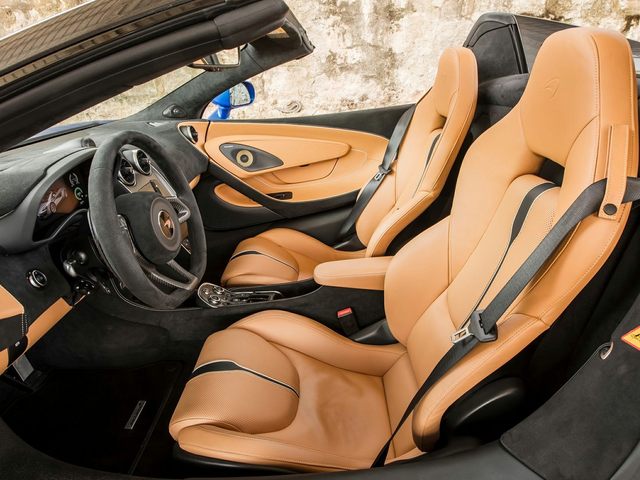 Customize Your New McLaren 570S with the Bespoke Experience from Park Place
When it comes to your new McLaren 570S, we believe that you should have complete control over every aspect of your dream vehicle. That's why we offer the Bespoke Experience, allowing you to customize your ideal 570S from the ground up, including features like:
Custom Paint Palettes
Natural Veneers and Unique Surfaces
Personal Leather and Stitching Options
Embroidery
And More
Performance
For pure athleticism and exhilaration behind the wheel, the new McLaren 570S comes equipped with a 3.8-liter twin-turbo V8 engine that produces 562 bhp and 443 pounds-feet of torque, providing you with a top speed of up to 204 mph and the ability to reach speeds of 0-60 mph in as little as 3.1 seconds. With such a performance, the new 570S is as well utilized cruising around Dallas as it is flying around the nearest race track on your next weekend adventure
Every model pairs the sporty engine to a 7-speed Seamless Shift Gearbox that can be operated both in an automatic mode or using steering-wheel-mounted rocker-shift paddles for the same feel and responsiveness of manual gear selection. All models come with independent adaptive dampers and dual wishbones with Comfort, Sport and Track models, allowing you to cater the performance to meet whatever driving scenario you encounter at any given time. Every model comes with rear-wheel drive to provide you with optimal balance and center of gravity, allowing you to take on tight corners and winding roads with the utmost excitement and confidence.
Design
The new McLaren 570S is dynamic and aerodynamic in every sense of the word. Its chiseled build is engineered for speed and good looks, allowing you to enjoy the pinnacle of performance and appearance everywhere you travel. The dihedral doors swing open towards the sky while the slimline light blade LED tail lights give it an even more prestigious appeal.
Inside the cabin, the new McLaren 570S features premium hand-stitched leather and satin-chrome highlights to provide you with the utmost comfort and sophistication throughout, all of which can be customized to your liking with our Bespoke Experience. The TFT instrument display offers crisp graphics and information through a large LCD display, including different adaptive driving modes like road speed, gear selection, navigation, and other features to help you enjoy the optimal driving experience.
Technology
The floating 7-inch touchscreen center console uses the McLaren IRIS ® infotainment system to provide you with a variety of connected technologies, including satellite navigation, WiFi tethering, voice activation, Bluetooth telephone connection and streaming, built-in apps, and much more. It also allows you to control climate, the rear view camera, stereo, and more. For the optimal listening experience, you can equip your McLaren 570S with an available 12-speaker premium sound system, providing you with surround sound and the most crisp audio possible.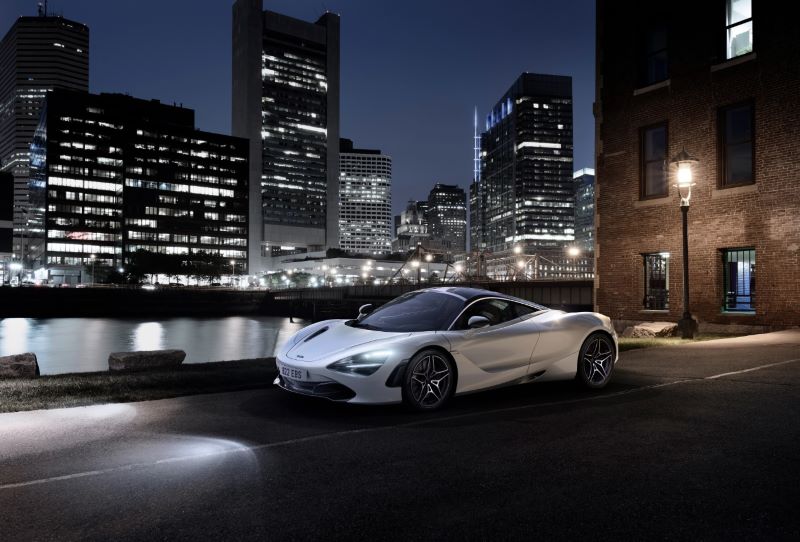 MCLAREN 570S COUPE
The new McLaren 570S Coupe is the ultimate sports car experience. Built with a driver-centric focus and an attention to performance details, this automotive masterpiece is equally at home on the track as it is on the open road. Rated with the lightest weight in its' class and the highest power to weight ratio, the 570S leaves competitors in the dust. Rocket from 0-124 mph in under 9.5 seconds and top out speeds in excess of 204 mph while harnessing a thrilling 562 base horsepower. The standard 3.8 litre twin turbo V8 engine makes no apologies for delivering a breathtaking performance, a perfect counterpoint to the subtle and perfectly sleek carbon fiber monocoque construction. Configure your new McLaren 570S in exterior color choices like Vermillion Red, Onyx Black, Storm Grey, Venture Orange or Silica White.
Buy or Lease a New McLaren 570S Model
When you're ready to learn more about buying or leasing the new McLaren 570S model of your dreams, we invite you to join us at McLaren Dallas to explore all of your options with our helpful team today! We also offer many Qualified McLaren models, giving you a vast selection of quality pre-owned McLaren models to choose from in Dallas. When the time comes, our renowned McLaren service center is here to take care of all your maintenance and repair needs to keep your vehicle in like new condition for many miles to come!
Park Place is Your Place to Lease, Purchase, or Service Your McLaren 570s
Park Place is proud to offer the new McLaren 570S as part of our Premiere Collection, a group of automobiles that knows no equal on the globe. Visit our Dallas McLaren dealership to explore, configure and drive your new 570S today. Park Place is Your Place for new McLaren sales, leasing, certified parts and service.
MCLAREN DALLAS