Find Jaguar Electric & Hybrid Vehicles at Jaguar DFW
Jaguar electric and hybrid vehicles seamlessly integrate technology, abundant space and the thrill and reliability of the Jaguar cars you know and love. With the debut of the new I-Pace in 2019, and more alternative fuel vehicle options to come in the near future, Jaguar Cars are ready to reshape the landscape of today and tomorrow's roads. Many states in the U.S. currently offer incentive programs and rebates for purchases or electric or hybrid vehicles, so get yours before the opportunity expires. Park Place is proud to offer this exciting new automobile class to drivers in the DFW Metroplex. We are Your Place for new Jaguar vehicles.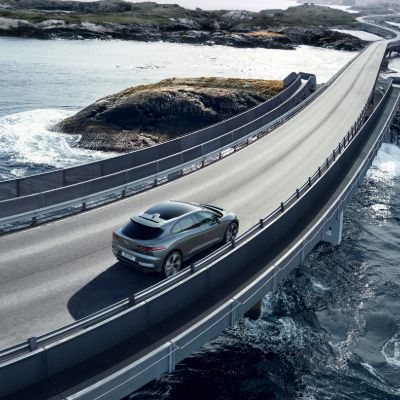 Introducing I-PACE Concept | Jaguar's First All-Electric Car
With a range of up to 234 miles, the fully electric Jaguar I-Pace is enable for long distances through its' high tech and innovative lithium-ion battery, whose 90kWh capacity benefits from a position low in the wheelbase, harnessing the vehicle's low center of gravity to improve driving dynamics. Torque Vectoring by Braking provides controlled independent braking to the individual inside front and rear wheels, adding to the turning force of the vehicle itself. With speeds of 0-60mph in 4.5 seconds and 394 horsepower pushing 512 lb-ft of usable instant torque, the new Jaguar I-Pace does not disappoint, a true testament to the decades of legacy of the Jaguar automotive brand.
Jaguar I-Pace Electric SUV
The Jaguar I-Pace also features standard all-wheel-drive (AWD), Adaptive Surface Response (ASR) for constant monitoring of road and environment conditions, and an Enhanced Brake Regeneration system that uses braking energy and converts that energy back into the I-Pace's battery charging system. Also, the included All Surface Progress Control feature enables drivers to set and maintain steady speeds when challenging road conditions arise. Make sure you don't miss out on your new I-Pace. Contact Park Place Jaguar today to reserve yours.