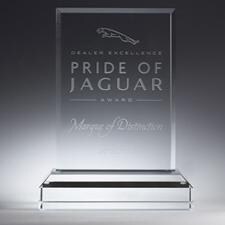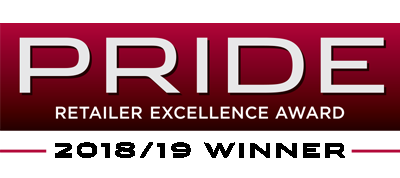 PRIDE OF JAGUAR AWARD
Park Place Jaguar DFW
is honored to be the recipient of the Pride of Jaguar Retailer Excellence Award for three years in a row. We are proud to say that we are the
#1 Jaguar dealership in the country
. The Pride of Jaguar Retailer Excellence Award is the highest honor a Jaguar dealer can receive. This prestigious distinction is bestowed only on the 16 most elite Jaguar dealerships in the nation. These are the dealers who take the ideals of excellence and turn them into a way of doing business for every customer, every day.
Sixteen Jaguar retailers are chosen based upon being top performers in three overall categories; customer advocacy, sales and business excellence. One Jaguar retailer is awarded the esteemed Marque of Distinction title for being the top retailer for their brand. These retailers exceed all expectations within our measurements of success earning them the number one spot.
The 2014/2015 Marque of Distinction is Jaguar DFW. Earning Pride of Jaguar takes hard work and requires that all areas of a Jaguar dealership's business are focused on the customer. Park Place Jaguar DFW is proud to be recognized for its ongoing commitment to excellence- from sales and service to the ownership experience.
The Pride of Jaguar award annually honors those select dealers who exceeded expectations in customer satisfaction, sales performance and overall business excellence and we at Jaguar of DFW take great pride in being recognized for the standard of excellence we try to keep up on a daily basis.
Joe Eberhardt, President, Jaguar Land Rover North America, LLC. Says "Their dedication to providing exceptional and unique overall experience for our customers is a reflection of our respect and pride we take in customer loyalty. We are even more proud that Jaguar DFW earned the Marque of Distinction Top Retailer award." Jaguar annually recognizes and rewards top scorers in parts, sales and service as part of the Journey to Excellence certification and recognition program. Significant training in their field, customer handling scores, knowledge, and experience are required to earn the Marque of Distinction award. Thousands participate, hundreds compete, and only seven Jaguar professionals prevail annually.
We would like to thank our loyal client base and constantly hard working members for helping us achieve these grand awards because we know without them none of this would ever be possible.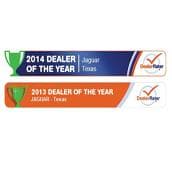 Awarded Dealerrater's Dealer of the Year Award
DealerRater's Dealer of the Year Award Program recognizes a select number of car dealerships throughout the United States and Canada for outstanding customer satisfaction as expressed through customers' online reviews. In order to qualify for the award program, a dealership must meet the following criteria: At least 25 new reviews written on DealerRater's web site during the previous calendar year, an average rating greater than 4.0, with 5.0 as the highest possible score, must not have been blacklisted within the last 12 months.
DealerRater's Dealer of the Year awards are given each February to car dealerships that have the highest score in their brand category. Each dealership's score is determined using an algorithm that considers the dealership's average star rating and the total number of reviews written about the dealership during the calendar year.

Park Place Jaguar DFW Named One Of The Best Dealerships To Work For By Automotive News
Park Place Jaguar DFW earned the distinction of being named one of the
Best Dealerships to Work For by Automotive News in 2012
. Automotive News partnered with Best Companies Group to identify 100 dealerships in the U.S. and Canada that have excelled in creating quality workplaces for employees. The program measured workplace satisfaction through a confidential survey of employers and employees. The list of the 2012 Best Dealerships to Work For was published in the July 9 issue of Automotive News and Park Place Jaguar DFW was the only dealership in the Dallas and Fort Worth areas to receive this recognition.

Ranked 4th in the Workforce Dynamics National Top Workplaces Award
Dallas-based Park Place Dealerships has been named one of America's Top Workplaces by Workplace Dynamics. Park Place was ranked #4 nationwide among 872 organizations with more than 1,000 employees that participated in regional top workplaces programs.
The Top Workplaces program accurately reflects the opinions of employees through measurement of engagement, organizational health and employee satisfaction. The survey is utilized year after year by human resource professionals nationwide as the gold standard in internal measurement of organizational health and employee satisfaction.
The survey uses a proprietary set of 22 questions to rank companies. The survey data showed that employees most want to work at companies with high levels of organizational health. Companies that set a clear direction for their future; execute well; and bring real meaning to work are the healthiest.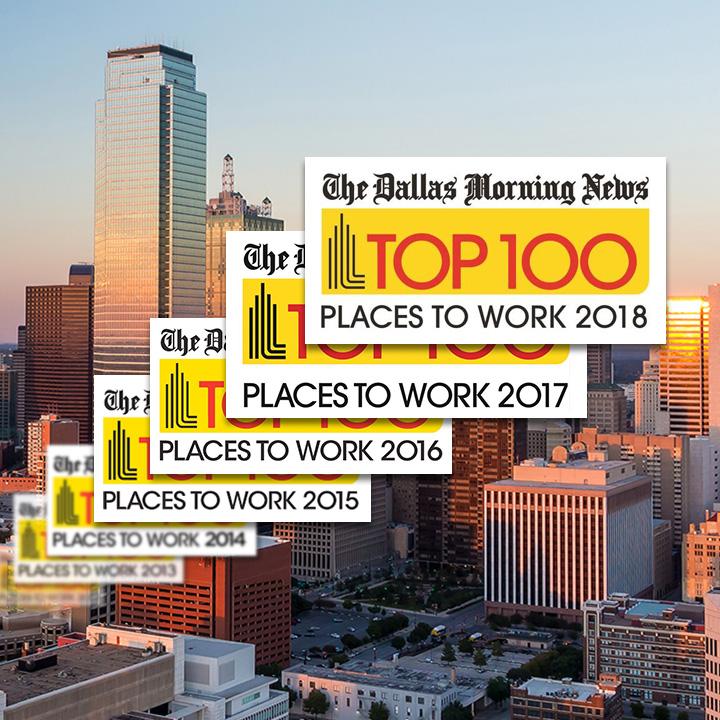 Park Place Dealerships Named to the DMN Top 100
Places to Work
Park Place Dealerships has been named among the "Top 100 Places to Work" by the
Dallas Morning News
for the fourth consecutive year and ranked number 4 in the large company category for corporations in Dallas / Fort Worth.
Park Place Dealerships was selected based on an independent survey of Park Place's employees, conducted anonymously by The Dallas Morning News' research partner. The DMN "Top 100 Places to Work" list was compiled from a survey sent to Park Place's employees soliciting their opinions on six areas of the workplace including direction, execution, pay and benefits, career opportunities, workplace conditions, and managers. In order to qualify, at least 35-percent of a company's employees must respond to the survey. This year, the firm surveyed 276 companies and analyzed responses from 72,285 employees.
Feedback from Park Place's employees included comments such as: "My job always keeps me on my toes, and I love that;" and "Park Place actually does everything they say they're going to do and more;" and "Park Place Dealerships has the confidence in me to do my job well and do what's right for our clients."